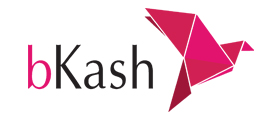 About
bKash Limited (bKash) is a Bank-led Mobile Financial Service Provider in Bangladesh operating under the license and approval of the Central Bank (Bangladesh Bank) as a subsidiary of BRAC Bank Limited. bKash provides safe, convenient and easy ways to make payments and money transfer services via mobile phones to both the unbanked and the banked people of Bangladesh. At present, bKash is one of the leading Mobile Financial Services Providers in the world. bKash started as a joint venture between BRAC Bank Limited, Bangladesh and Money in Motion LLC, USA in 2010. In April 2013, International Finance Corporation (IFC), a member of the World Bank Group, became an equity partner and in March 2014, Bill & Melinda Gates Foundation became the investor of the company. In April 2018, Ant Financial (Ali Pay), an affiliate of globally reputed Alibaba Group, became an investor in bKash. The ultimate objective of bKash is to ensure access to a broader range of financial services for the people of Bangladesh. It has a special focus to serve the low-income masses of the country to achieve broader financial inclusion by providing services that are convenient, affordable and reliable.
More than 70% of the population of Bangladesh lives in rural areas where access to formal financial services is difficult. Yet these are the people who are in most need of such services, either for receiving funds from loved ones in distant locations or to access financial tools to improve their economic condition. Less than 15% of Bangladeshis are connected to the formal banking system whereas over 68% have mobile phones. These phones are not merely devices for talking but can be used for more useful and sophisticated processing tasks. bKash was conceived primarily to utilize these mobile devices and the omnipresent telecom networks to extend financial services in a secure manner to the under-served remote population of Bangladesh. bKash can be accessed via all the mobile networks operating in Bangladesh. Currently, bKash is running a network of more than 180,000 agents throughout urban and rural areas of Bangladesh with over 30 million registered accounts.
In 2017, bKash was ranked as the 23rd company in the annual list of Fortune Magazine's 'Change the World in 2017' among the top 50 companies to make changes based on social issues.
Module Features
Test Mode
Payment Commission Determining
Converting Currency
Accepted Countries
Unaccepted Countries
Screenshots