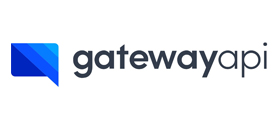 GatewayAPI
+4566118311
Buchwaldsgade 50 5000 Odense C Denmark
About
Why choose GatewayAPI?
Never run out of breath
Reach your target groups quickly, efficiently and reliably. Our systems can handle huge amounts of pressure and are built to scale automatically. Sending to over 1M recipients? Not a problem! GatewayAPI has the capacity to send 3,000 SMS messages per second.
We got you covered
We offer the highest level of security. GatewayAPI is stored safely in Tier 4 Google data centres within Europe. All data are protected by tough SSL and leading security measures. Did we mention that GatewayAPI is also completely GDPR-compliant?
Steady as a rock
Feel confident that you can always reach your recipients with our top-end providers around the world. Our uptime of over 99.99 % speaks for itself. Check status and subscribe to status updates.
Prioritise traffic
When dealing with emergency broadcasts or other urgent messages, our platform gives you the ability to label traffic as "URGENT" or "VERY URGENT", which ensures that the traffic is prioritised. This feature can be enabled when you use the Premium Message Class.
Top-notch technical support
Need help or have a question? Contact our support, located in Denmark, that are ready to help you 24/7 with mission critical requests (applies to customers who have signed an extended SLA) and between 09.00-16.00 UTC+1 on weekdays for regular requests.
Secret Class
You can send traffic using the Secret Class, which uses our Premium routes and anonymises all data in your message once it has been sent. That means that neither we nor you can see the content afterwards. Contact support to get access to the Secret Class.
Module Features
International SMS Service Sales and Management
With this module, you can offer your customers international sms sending service and provide sender id management, reporting etc. you can provide process.
Bulk SMS Sending
Single SMS Sending
Sending SMS with Sender ID
Managed SMS Notifications
Screenshots