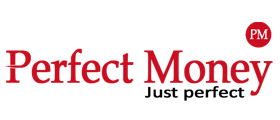 About
The pink of absolute perfection that crowns world e-commerce henceforth will be presented by an ideal financial institution - Perfect Money which aims to bring the transactions in Internet to the supreme level.

Basis for the development of Perfect Money was the experience of a group of company founders consisting of experts in banking area, certified lawyers, economists and team of programmers competent in e-finance industry at the basic dynamics level. Having analyzed the way passed by the humanity beginning from the first coined money to today's financial corporations in Internet, Perfect Money went further - we offered the world an ideal payment tool applicable in any place of our planet by any user.

Perfect Money analysts have carefully studied all the payment systems that exist in the world today as well as all the approaches to estimating costs in this economic category. Subsequently a new payment system was offered to the world which combines all the progress and best achievements of the global economists and technologists in the fields of electronic currency.

Exactly this principle was followed at creation of Perfect Money. Numerous researches have proved that we succeeded in combining of multi-level security process with the simplicity and convenience of system's use.

Once we have already looked into the future of e-commerce and saw Perfect Money there...
Module Features
Perfect Money Payments Options
Payment Commission Determining
Screenshots