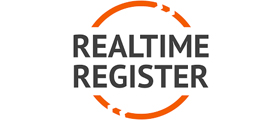 About
Domain names are the core of the internet. Without trustworthy domain operations, the internet will not function. Efficient, compliant and secure domain management is critical. Domain name registration is the first step towards online presence, both privately and professionally.
Realtime Register wants to make the difference in domain registration and management for registrars, VARs, Telcos, ISPs, web hosters, web agencies, and branding agencies worldwide. By providing industries best API, timesaving processes, knowledgeable support, great add-on products and services, combined with excellent pricing, we will manage our partners' domains most efficient. So, they can do, what they do best.  
We are crazy … crazy about domains! We love them, and we just cannot get enough. That's why we have our BHAG (Big Hairy Audacious Goal): In 2025, Realtime Register will manage more than 20 million domain names, being a Top25 key player in the domain management industry.
Now, with more than 1,000 resellers in over 100 countries, managing several million domain names, thousands of add-on products and licenses and growing extremely fast, we are right on target! 
Today, we are a fully independent wholesale registrar. Unlike many other registrars, Realtime Register chooses not to sell to end users, and therefore does not compete with its own resellers.
Fighting domain abuse and keeping the Internet safe is of utmost importance to our industry and the world economy overall. Therefore, we have developed an extensive domain abuse monitoring and mitigation program. Use of the Realtime Register Abuse Monitoring & Reporting is free of charge for all domains registered/managed on our platform.
Module Features
Domain Name Query
Domain Name Registration
Domain Name Transfer
Domain Name Renewal
Auto Update Extension Costs
Changing Name Server
Child Name Server Management
Whois Protection
Updating Whois Information
Transfer Lock Management
Creating a Transfer Code
Bulk Domain Import From Service Provider
Bulk Extension Import from Service Provider
Domain Name Promotion Management
Screenshots