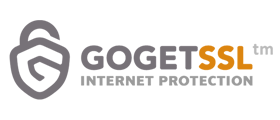 About
GoGetSSL™ is one of the largest providers of SSL certificates in the World and belongs to the EnVers Group company. Our aim is making use of World Wide Web safe and protected using various services we provide like SSL certificates, Anti-Malware tools and scanners, Site Seals and LEI codes. At present we provide Domain, Business, and Extended Validation certificates, Wildcard, Multi-Domain (SAN), Code Signing and S/MIME certificates.
Starting in 2018 we are selling our own branded GoGetSSL™ certificates around all the World. We are Strategic Partner of Sectigo (formerly Comodo CA), Platinum partner of DigiCert and Official GLEIF Registration Agent. We have large volumes and receive significant discounts from vendors, that gives us the availability to pass discounts to you and to offer the lowest prices possible.
We sold more than 1,000,000 SSL certificates within 70,000 customers, operating 7,000+ resellers globally. We appreciate everyone for choosing our company and we would continue to improve our services and quality.
Module Features
Auto Setup
Renovation
Cancelation
Reissue
Multi Domain Support
Changing Verification Email
Resending Verification Email
Screenshots